THE place is Bodhgaya; the year1904: Four distinguished personalities are engaged in a very serious discussion. You have Rabindranath Tagore, Prof Jagdish Chandra Bose, Sister Nivedita, and Prof Jadunath Sarcar. They are disturbed by the announcement of the Partition of Bengal, and are wondering how to avert the impending division of their beloved land. While the others are a little depressed, Professor Sarkar assures them that they need not worry as long as they had 'Gurudeb' with them. To bolster their spirits, Professor Sarcar recites a poem by Tagore, that he (Jadunath) had translated a few days earlier: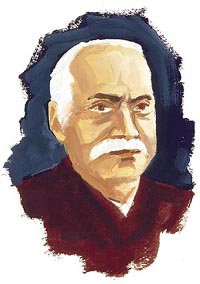 What voice is it that I hear
From the land of dawn,
'Fear not! Fear not!
He who will give up his life
Retaining nothing
Will never end, never perish!
There were many aspects to Professor Sarcar's personality. He was a poet at heart, a prolific writer, football enthusiast, but above all a historian of uncommon abilities.
Born into a rich family, Professor Sarcar started his long and illustrious academic career at Presidency College as Professor of English and History in 1898; the following year he was transferred to Patna College. After the plans of Partition were abandoned, he was transferred to the newly established Bihar and Orissa Educational Service. He was often transferred from one university to the other, not because there he was not wanted, but because he was too brilliant, and everyone wanted him.
Sir Jadunath believed that although English was indispensable, the importance of Indian languages could not be ignored. He stressed the importance of secondary education, and laid a very strong emphasis on independent thinking: "India cannot afford to remain an intellectual pariah, beggar for crumbs at the doors of Oxford or Cambridge, Paris or Vienna. She must create within herself a source of the highest original research and assume her rightful place at the School of Asia, even as Periclean Athens made herself the School of Hellas."
As a teacher he was so dedicated to his work that he conducted all his classes even on the day of his retirement. Just before his retirement, the Governor of Bengal appointed him Vice-Chancellor of the Calcutta University.
For a man of his learning and intellect, honours and awards were there for the asking.The Royal Society of Great Britain and Ireland made him an honourary member in 1923; The English Historical Society invited him to become a Corresponding Member in 1935,The American Historical Association of Washington nominated him an Honorary Life Member in 1935, the Royal Asiatic Society of Bombay made him Honorary Fellow. And so many doctorates were showered upon him by various universities that in the end he stopped accepting them. The Panjab University honoured the great historian with the publication of Sir Jadunath Sarkar Commemoration Volume in 1957-58.
In his long career, he wrote over two dozen authoritative books on history, translated Persian historical works and records, translated Tagore's works into English. Professor Sarcar's enormous literary output could be judged by the fact that a list of his works, published in Life and Letters of Sir Jadunath Sarkar runs into 17 pages!
But the Professor had his own share of misery. In a string of personal tragedies, he lost three sons, four daughters, two sons-in-law, and a grandson. As he was advancing in years, his wife, Kadambini Debi became an invalid. Being a man of iron constitution, he nevertheless carried on writing, and of course reading his favourite authors:"The greatest gain of my life has been the companionship of the writings of great literary masters of the past — Sanskrit . . . literature and the Upanishads, European . . . literature, history and biographies . . . . These have given me a new kingdom into which no enemy can enter. In that Kingdom I get a new life."