Kuldip Dhiman

Reviewed for The Tribune, November1, 2009
http://www.tribuneindia.com/2009/20091101/spectrum/book5.htm

Empire of the Moghul: Raiders from the North
By Alex Rutherford.
Headline Review.
Pages 436. Rs 495.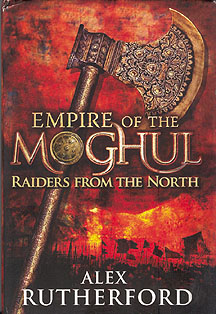 WHEN Babur was barely 12, his father died in a freak accident. Hardly had Babur got over the shock, he had to prepare himself to take over the reigns of Ferghana or else he would be dethroned by his uncles or cousins. Just retaining Ferghana would not be enough, though. His father had told him on several occasions: "We owe Timur a debt. He was a great man, my son. His blood is your blood. Never forget it. Be like him, if you can. Live up to your destiny and let it be greater than mine."
And Babur would never forget the words of his father. So, at an age, when you play in the fields, Babur found himself burdened with the responsibilities of a ruler as his father had not left a very secure kingdom for him. The problems were not only external, for his uncles, cousins, and other hopefuls were only too keen to topple him and seize power.
In Alex Rutherford's Empire of the Moghul: Raiders from the North, we find Babur trying to consolidate his position and regain some of the lost lands. His first job was to attack Samarkand. It was a long campaign lasting seven months, and it proved to be expensive and he realised that while he was engaged in the seize, Fergana had been usurped by his detractors. And as he charged back to recover it, his troops deserted in Samarkand. The whole experience found Babur losing both Samarkand as well as Fergana. The young king was beginning to realise the harsh realities of life, and he would need all the talents of his great ancestors. For instance, to realise his ambition, he would have to make alliances with his cousin Mahmud, who would help him seize Samarkand in order to win a bride for himself. Their motives were different, but the ruthlessness the same.
In this action-packed historical novel, which is first of a series of five novels that he is writing on Moghul emperors, Rutherford, magnificently recreates the rise of Babur from the Mediterranean, through Afghanistan, and finally India, where he founded the Moghul dynasty. The novel is meticulously researched, and the author claims to have visited every location described in it. The result is a dramatic and picturesque presentation of history that keeps you turning page after page although you might be familiar with major historical facts. History books give facts, but it is historical fiction that puts life into the characters and events. Rutherford's lively prose and sharp psychological insights make us feel and care for the characters we meet in the book. Apart from the major players, Rutherford very passionately creates the others like Wazir Khan, Babur's mentor and protector; Kutlugh Nigar, his mother; Khanzada, his sister, and Roxanna, his father's concubine.
In the deft hands of Rutherford, Babur emerges as a strong and ambitious man who he is ruthless at times but also kind and gives in to weaker passions sometimes. And although he might have earned a name for himself in history books as winner of several battles, we see him not so victorious on the personal front because there the sword does not work. The mighty conqueror finds himself unable to elicit any love from his first wife, Ayisha. "He had never seen her smile—not once. A smile might have softened her and, in turn, softened his feelings towards her. Instead, lying with her seemed almost like sleeping with a warm corpse—no response, no passion, no engagement, just those unblinking dark eyes seemingly focused on the middle distance as he spent himself in her unresisting body."
This is one battle Babur might have loved to win the most.